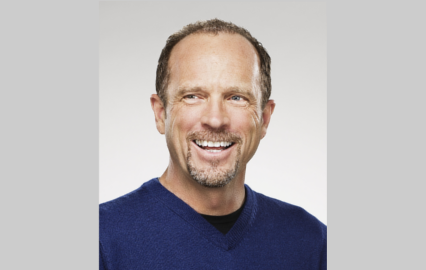 Matt Ellefson
Founder & CEO of SURVIVEiT®, (USA)
---
Cancer finds us wherever we are in our lives. Cancer found Matt in the midst of a successful career and among a large, happy family. In the fall of 2009, Matt developed a cough that he couldn't shake. He didn't look sick. He didn't feel sick. So he went on with his life without giving it much thought. Then one morning in December, Matt began coughing up blood. Within hours, Matt and his wife, Melissa, were told that he had late stage lung cancer. They were told that without treatment, he would have eight months to live. With treatment, he faced a five-year survival rate of less than five percent.
"…A lot of fear sets in. It's the fear of people you've seen suffer and lose their life to this disease. Also the fear of the unknown. I wanted to know everything I could about my disease."
Matt and Melissa immediately reached out to their family, and the work to find a promising treatment strategy began. After an exhaustive and frustrating search, they found a clinical trial for his form of cancer in Houston, Texas. Matt spent five months living with family members in Houston while undergoing extremely aggressive treatments. Melissa divided her time between Houston and Sioux Falls, where their five children remained. Over the course of those five months, they faced not only Matt's cancer, but multiple life-threatening illnesses and side-effects related to the treatment itself.
"…the worst part of my cancer journey was the wait. Not the pain from the cancer and treatment, but the wait from the time of diagnosis to when I began treatments."
The experimental treatment in Houston was successful, and in 2010 Matt's cancer went into remission.
Today, Matt is effectively controlling his cancer with Alecensa, a targeted ALK+ inhibitor, and currently lives an active life that includes running and cycling competitions, endurance sports, speaking engagements, and exploring the world with his family. He serves as a spiritual mentor and national cancer advocate through his work with SURVIVEiT®, Celebrate Community Church, PhRMA, LUNGevity Foundation, Imerman Angels, American Lung Association, American Association for Cancer Research, and LIVESTRONG. He has been featured on SiriusXM Doctor's Radio, the Washington Post, US News & World Report, Cancer Warrior Radio, the cover of BizNOW magazine, CURE magazine, and numerous PSA print, radio, and television broadcasts. Matt also serves on the oncology IRB at the Avera Cancer Institute.
Since his diagnosis, Matt has found strength in his faith and in his family. He has also found his mission with SURVIVEiT®.
Matt has a dream of a world free from the fear of cancer and is committed to using what he's learned from his journey, as well as his 28-year career in engineering and business development, to develop a series of tools to help anyone affected by cancer. In July of 2013, Matt founded SURVIVEiT®, the world's first and only non-profit cancer care rating resource developed by survivors for patients. SURVIVEiT® provides cancer patients with the combined knowledge and experience of a global community of survivors, doctors, and allies.
SURVIVEiT® was born out of the fear and frustration that Matt and his family experienced while they searched for a solution. They learned that cancer doesn't slow down for us to find the best treatment options. It doesn't wait for us to find our spiritual centers. Cancer finds us wherever we are in our lives.
With SURVIVEiT®, we can meet cancer with a plan. We can be ready. We can be fearless.
Experience & Qualifications as a Cancer Advocate
* Founder & CEO of SURVIVEiT® – The world's first and only cancer care rating resource. Developed by survivors for patients, SURVIVEiT® provides access to the combined knowledge of a global community of survivors, doctors, and allies.
* Certified Patient Navigator – Harold P. Freeman Patient Navigation Institute
* Consumer Reviewer – Evaluate research applications submitted to the Lung Cancer Research Program (LCRP) sponsored by the Department of Defense (2013 & 2014)
* Institutional Review Board - Oncology (Avera Cancer Institute) – An ethical review board to protect the rights and welfare of individuals who serve as subjects of research conducted within the Avera Health system * Precision Health Network – Co-Chair of Empowered Patient Advisory Board
* American Lung Association – Advisory Board, South Dakota (2013 to present) * PhRMA – Volunteer spokesperson and personalized medicine advocate. * Pfizer Pharmaceuticals – Volunteer advocate for molecular biology and targeted therapies * Abbott Molecular - Volunteer advocate for molecular biology and targeted therapies * The LUNGevity Foundation – Volunteer spokesperson, advocate, and Lifeline Support Partner * The LIVESTRONG Foundation – LIVESTRONG Leader Region 10 (2010 to 2014)
* Imerman Angels – Mentor Angel for newly diagnosed patients (2011 to present)
* Celebrate Community Church – Cancer Care Group (2011 to present)
* Previous Education – BS Mechanical Engineering from South Dakota School of Mines and Technology (1984)
---
Why WIN
SURVIVEiT® feels blessed to have the opportunity to collaborate with the gifted WIN Consortium team in our combined efforts to advance cancer care and patient outcomes. We expect a commitment from WIN to never forget the patient/survivor's voice in this effort. WIN has been blessed with the responsibility use the gifts God has provided you with to help those facing cancer. Together we will create a world free from the fear of cancer.