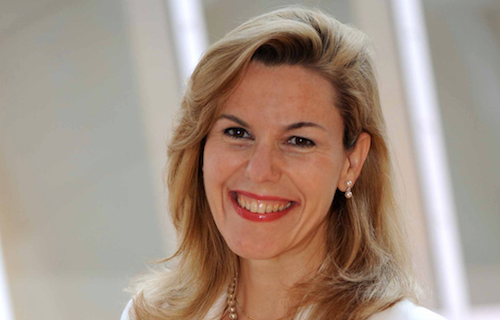 Apostolia-Maria Tsimberidou
Tenured Professor, Department of Investigational Cancer Therapeutics, Division of Cancer Medicine, The University of Texas MD Anderson Cancer Center (USA)
---
Dr Tsimberidou has pioneered the personalized medicine program in the Department of Investigational Cancer Therapeutics. In 2007 she designed and is the principal investigator of the IMPACT trial, an Initiative for Molecular Profiling and Advanced Cancer Therapy, and she established a tissue bank from patients with advanced cancer. Dr. Tsimberidou earned her M.D. from the Aristotelian University in Thessaloniki, Greece in 1991 and her Ph.D. from the University of Athens, Greece in 2001. She joined the M.D. Anderson Cancer Center as a postdoctoral fellow in 1998 and she has rigorously pursued a leading role in cancer research. She has diligently designed over 20 clinical trials, including a study of oxaliplatin, fludarabine, cytarabine, and rituximab, which changed the standard of care for patients with Richter's syndrome.

Dr. Tsimberidou has a multitude of first-authored publications in high-impact journals. She has published over 240 papers (over 130 as first or senior author), ten book chapters and educational modules and is the Editor of a major textbook entitled "Targeted Therapy in Cancer" (Wiley, Blackwell, 2015). Dr. Tsimberidou received awards from the American Society of Clinical Oncology (ASCO), including a Career Development Award, the American Society of Hematology (ASH), and the European Society of Hematology (EHA). Because of her innovative work, she has been invited as a keynote speaker at ASCO, ASH, EHA, the International Lymphoma Conference and several international conferences. She completed the ASCO Leadership Development Program and she served on the ASCO's Educational Committee and the prestigious Cancer Research Committee (CRC). She served as the Chair of the CRC in 2016-2017.
Based on her expertise in personalized medicine, she has become a nationally and internationally recognized authority in the field of personalized medicine, and cancer drug development.
Dr. Tsimberidou's work on personalized medicine demonstrated that identifying tumor specific molecular aberrations and choosing therapy based on these abnormalities is associated with higher rates of response, survival and time to treatment failure in patients with advanced cancer compared to the standard approach. She presented these results at the ASCO's prestigious official Press Program in 2011 and 2018. Her work has garnered extensive media coverage, including articles in The Economist, the Wall Street Journal the Bloomberg report and the Boston Globe. An independent review in 2011 in the Journal of Clinical Oncology stated that her work is one of few projects with the greatest potential for favorably impacting patients' lives. Dr. Tsimberidou developed the IMPACT2 trial, a randomized study in precision medicine comparing the use of genetically targeted therapy against tumor molecular aberrations with standard treatment not selected on the basis of genomic analysis in patients with metastatic cancer. She is the principal investigator of many clinical trials, including immuno-oncology trials and T-cell therapy programs for patients with solid tumors.
Primary Appointment:
Professor, Department of Investigational Cancer Therapeutics, Division of Cancer Medicine, The University of Texas MD Anderson Cancer Center, Houston, TX, USA
Dual/Joint/Adjunct Appointment:
Associate Member, University of Texas Health Science Center at Houston Graduate School of Biomedical Sciences, Houston, TX, USA
Research Interests:
Phase I Clinical Trials
Target therapies
Cancer Molecular Biology