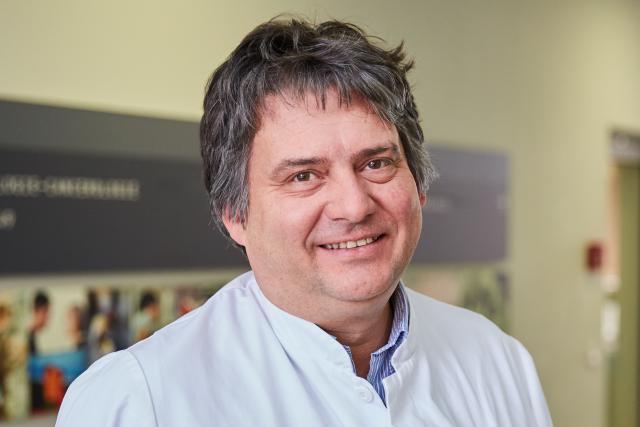 Guy Berchem
Head of Medical Oncology department, Centre Hospitalier de Luxembourg; Associate Medical Director, Luxembourg Institute of Health (Luxembourg)
---
Prof. Guy Berchem, MD, PhD, Head of Medical Oncology department, Centre Hospitalier de Luxembourg (CHL) and Associate Medical Director, Luxembourg Institute of Health (LIH) is a medical oncologist graduated from the Université Libre de Bruxelles, (ULB) medical school in 1990. He did his Medical Oncology training at Brussels Institut Jules Bordet Cancer Center and his laboratory training as a research fellow in Lombardi Cancer Center, Georgetown University Washington DC. He contributed to the understanding of apoptotic mechanisms in hormone sensitive and hormone resistant prostate cancer.
He presented a PhD thesis entitled: « Rôle du stress hypoxique dans la régulation de la réponse immunitaire anti-tumorale des lymphocytes "Natural Killer" » at University Paris Sud (XI).
He has had laboratory research appointments, for 3 years at Institut Bordet in Prof. Arsène Burny's lab, and in 2003 he founded the Laboratory of Experimental Cancer Research at the Luxembourg Institute of Health (LIH) which he is still heading today.
He also holds a clinical position as attending physician in Medical Oncology at the Centre Hospitalier in Luxembourg where he heads the Oncology Platform.
His clinical work is essentially focused on lung cancer, melanoma and neuro-oncology. The work of his lab has been focused on cell death and cell survival mechanisms in MM and CLL as well as the study of NK based immuno-evasion and biomarker based promotion of personalized medicine in Luxembourg.
In 2015 he co-founded and is president of the Luxembourg National Institute of Cancer (inc.lu), He also cofounded the Luxembourg Society of Oncology in 2002. Since 2008 he is Luxembourg's delegate to the CAT committee at the European medicines agency EMA.
After a few years of humanitarian experience working as a physician with homeless people at "Stëmm vun de Strooss" as well as being member of the board of MSF Luxembourg he was elected president of MSF Luxembourg in 2015.