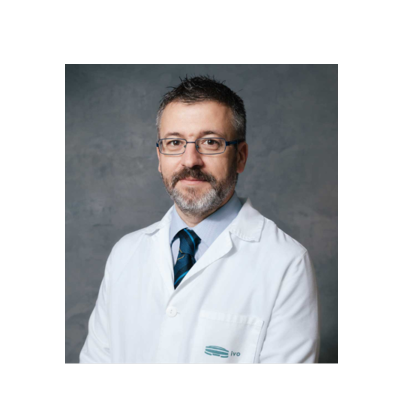 José Antonio López-Guerrero
Head of Laboratory, Molecular Biologist and Geneticist, Instituto Valenciano de Oncología (IVO)(Spain)
---
José Antonio López-Guerrero, PhD. Molecular Biologist and Geneticist.
Born in Alcoy (Alicante) in 1970. He received the BS degree in Biology in 1993 and the PhD degree in Biology (Human Genetics) in 1998 both from the Universitat de Valencia. His first research grant was devoted on the "Significance of detection of occult tumor cells in samples from blood mononuclear and bone marrow harvested from patients with breast cancer undergoing chemotherapy intensification and autologous bone marrow transplantation" (Grant from AMGEN in Cellular Therapy) which was carried out at the Departments of Biopathology and Hematology of the Hospital Universitario la Fe.
In 1998 he was granted by the Fundación Instituto Valenciano de Oncología (FIVO) and worked during 8 years at the Department of Pathology of the University of Valencia. In 2006, he definitively moved to FIVO and established the Laboratory of Molecular Biology that currently is managing.
His main expertise area is oriented on tumor biology and genetics particularly prostate, breast, lung and gynecological cancer and bone and soft tissue sarcomas.
He is also the Scientific Director of the FIVO's Biobank and the Scientific Coordinator of Valencia Network of Oncological Biobanks.
In 2014 he was accredited as specialist in clinical genetics by the Spanish Society of Human Genetics (AEGH). He is also member of the Ethical Committee of the General Direction of Public Health of the Valencia Health Government and external reviewer for research projects of the National Agency for Evaluation of Research Projects (ANEP).
He has been Director of 7 Doctorate Theses (2007 to date) and has participated in many postgraduate educational programs. He has been Invited Professor of the PhD programme from the Department of Pathology, University of Valencia (1999-2006); coordinator of the 4 editions of a Master Course on Biobanks and use of Biological samples for research in the Universidad Católica de Valencia San Vicente Mártir (2012-2018); as well as professor of postgraduate courses in Medical Genetics at the University of Valencia (2009 to date).
Currently, he is Professor of Cellular Biology at the Medical School of the Universidad Católica de Valencia San Vicente Mártir (2017-to date). In addition he is member of different scientific societies such as the OECI (2001 to date); also he has been founding member of the TubaFrost Consortium, the first European Network of Tumor banks for research (2002- to date); The Spanish Group of Breast Cancer Research (GEICAM); the Spanish Group for Ovarian Cancer Research (GEICO) (2008 to date); the European Society of Medical Oncology (ESMO) (2008 to date); the Spanish Group for Sarcoma Research (GEIS) (2007 to date); the Spanish Association of Human Genetics (AEGH) (2002 to date); and member of the board of the Pathobiology Group of the OECI (2012 to date). Since 2007 he is coordinating the Translational Research Committee of the GEICO group.