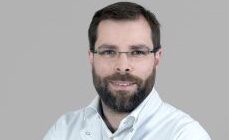 Nicolas Girard
Head of Department, Medical Oncology, Institut Curie (France)
---
Nicolas Girard is the Head of the Thorax Institute Curie-Montsouris in Paris, France and Professor of Respiratory Medicine and Thoracic Oncology at the Claude Bernard University in Lyon, France.
Professor Girard received his MD from the University of Lyon, Lyon in 2005. He then performed fellowships in Respiratory Medicine and Medical Oncology. From 2007 to 2009, he joined the laboratory of Dr William Pao at the Memorial- Sloan Kettering Cancer Center, in New York, USA, where he specialised in the field of molecular biology and personalised medicine.
His current areas of research include the development of tailored medicine and immunotherapy monitoring programmes in lung cancer and rare thoracic tumours, including thymomas.
Professor Girard serves as the Chair of the Oncology Group of the French Society of Respiratory Medicine, and is a member of the board of the French Cooperative Thoracic Intergroup. He is a domain leader for rare thoracic tumours within the European Reference Network, EURACAN.
Professor Girard has published more than 100 articles and 15 book chapters in the field of thoracic oncology, and is a member of the editorial board of the Journal of Thoracic Oncology and Lung Cancer
Areas of personal expertise/interest: Thoracic Oncology, Rare cancers, Molecular Biology, Immunotherapies, Early phase trials
---
Why WIN
WIN is a major achievement in building collaborative clinical and translational research programs with a high level of expertise, and a true spirit of dedication for patients